MACAlly / PCally PHR-250A USB 2.0 2.5 Enclosure Review
Features
USB 2.0/1.1 Interface (Up to 480 Mbits/second or 60 Mbytes/second)
USB powered
Uses two USB ports, one for power, one for data.
Portable
Use with any 2.5" 9mm IDE Notebook Hard Drive
Hot-swap and plug-n-play
Green/Red dual color activity LED
Win 98SE/ME/2000/XP and MAC compatible
Does not include AC adapter or drivers CD
Pictures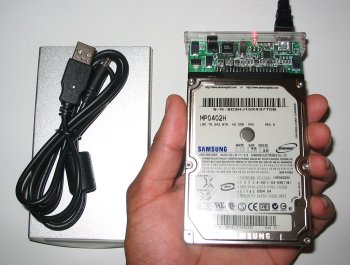 This is how it looks disassembled. See how the hard drive attaches to the end-cap, which contains the logic board, IDE connector, and input jacks. The drive fits in the palm of my hand. When the drive is seeking, it feels like holding a large bee or fly in my hand. The green power LED turns red when the drive is reading or writing. Notice it can work fine without the power cable.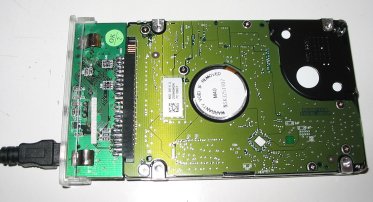 This is what it looks like from underneath. Unlike the NexStar NST-250U2, notice the two grounding clips on the left that touch against the aluminum enclosure when inserted.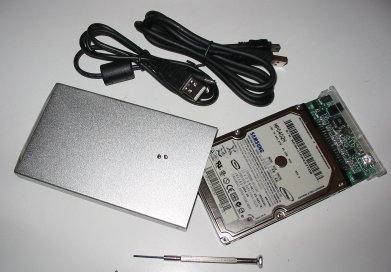 The components that come in the package are the two cables, screws, and the enclosure. You have to supply the notebook hard drive and the philips eyeglass screwdriver. Fully assembled, it is a slick silver-aluminum enclosure. Look for PHR-250A in Google Images for more pictures.
Review
To install the drive, just pop off the plastic end cap, and reinsert it after attaching the notebook drive. Use a philips eyeglass screwdriver to add the two screws to the sides, which hold the end cap in place. Plug in the USB data cable and power cable into two unused USB ports, and you're ready to go.
It was hard to screw the metal screws into the plastic, and without an appropriate screwdriver, it would be easy to strip the screws or threads. Only two screws are included. One can manage with a flat-head screwdriver and careful pressure.
We inserted a pre-formatted Samsung MP0402H Notebook hard drive, and it was recognized instantly in Windows XP SP2. Unlike the NexStar NST-250U2, the drive remained recognized after the computer was power cycled.
We copied a 1 GB file to and from the enclosure, and the speed was 13.4 MB per second each way. This is terribly slow when compared to the NexStar NST-250U2, which had transfer rates up to 27.6 MB per second with the same hard drive.
Therefore, we recommend against purchasing the MACAlly / PCAlly PHR-250A enclosure, because the performance is unacceptable.

SiSoftware Sandra
Buffered Read : 13 MB/s
Sequential Read : 13 MB/s
Random Read : 3963 kB/s
Buffered Write : 13 MB/s
Sequential Write : 13 MB/s
Random Write : 7 MB/s
Average Access Time : 11 ms (estimated)

Links
---
Created 2004-09-10, Last Modified 2011-07-24, © Shailesh N. Humbad
Disclaimer: This content is provided as-is. The information may be incorrect.