Detroit Salsa Dancing Info
Links to information on Detroit, Michigan Salsa dancing workshops, classes, lessons, socials, parties, and events.
The Detroit Salsa scene is hot and getting hotter. There are numerous night clubs that have dedicated latin dancing or salsa night. If you want to learn salsa dancing in Detroit, you can find excellent teachers and instruction at the various dance studios and ballroom dance clubs. Many of the night clubs also offer basic instruction in the early evening. For more information, check out the salsa-related websites below.
Salsa Dance Clubs
University of Michigan Ballroom Dance Club, Ann Arbor

Ballroom Dancing includes partner dances such as ChaCha and Swing as well as the traditional Waltz and Tango. Everyone is welcome, regardless of age. No university affiliation is required, just a desire to have fun!
Thursdays at The Harem is dedicated to the best in Salsa, Mambo, and Cha Cha! The SKY Mambo Team will be there creating the best environment to learn and enjoy salsa every Friday!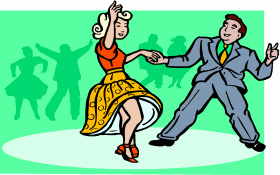 Salsa Dance Studios and Salsa Classes
Offers classes and lessons in salsa dancing and other latin dances.
Dedicated to Salsa, Argentine Tango, and Latin social dancing. Offering lessons, parties, trips, performances, and more.
Ballroom & Latin School of Dancing, offering private dance lessons, competitive dancing, group classes, dance parties, etc.
Salsa Information
Links to Detroit Salsa websites
SalsaDetroit.com is an online magazine aimed at Latin music enthusiasts in general and at those who enjoy Salsa dancing in particular.
---
Created 2006-10-30, Last Modified 2016-12-01, © Shailesh N. Humbad
Disclaimer: This content is provided as-is. The information may be incorrect.