Computer Parts Descriptions
Computer part descriptions. ALL ITEMS ON THIS PAGE HAVE BEEN SOLD
Like New 20.1 inch LCD Monitor - Dell 2001FP


This is a near mint 20.1" LCD Monitor, a Dell 2001FP.
It is an Active matrix - TFT, 1600 x 1200 resolution,
and 400:1 contrast ratio.
For complete specifications, visit:
Dell Specs

Monitor comes with all original cables and the
original box and packaging.  It was purchased last
June direct from Dell brand new. It is still under
Manufacturer's warranty until June 2006.  It has been
meticulously maintained, has no wear and tear, and
was regularly dusted with a vacuum and wiped with
lint-free wipes.  See picture for everything that is included.
I am selling because I upgraded.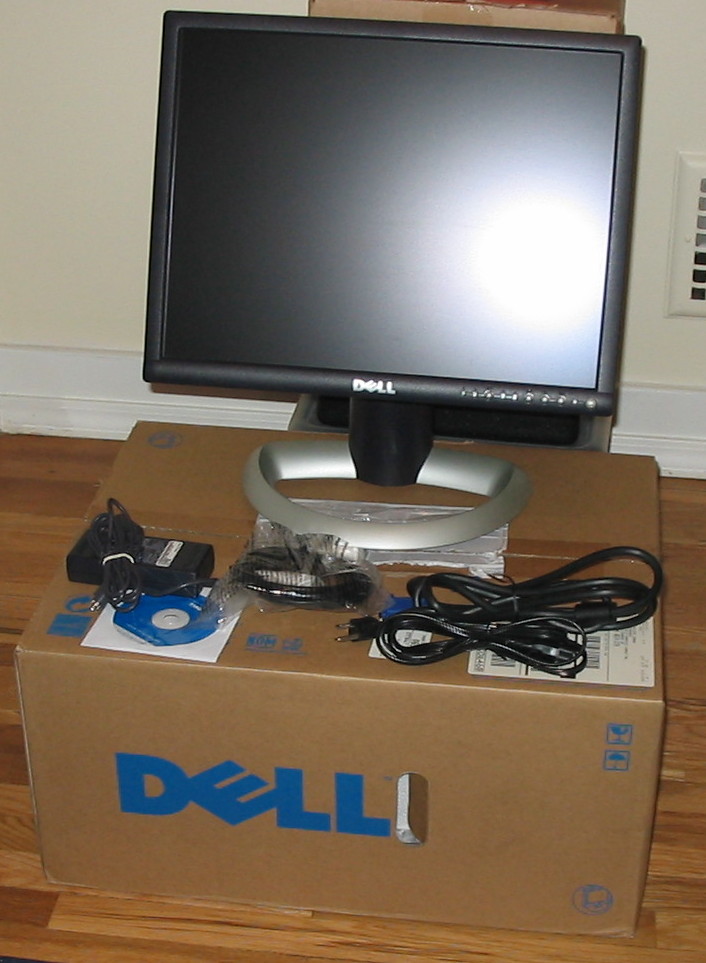 ---
---
---
Asus A7N8X Motherboard w/ Athlon XP Barton CPU
CPU w/Heatsink/Fan, Motherboard


This is a working motherboard, CPU, and HS/FAN kit.



INCLUDES:
1. AMD Athlon XP Barton Core 2500+ CPU Processor
	333FSB, 512KB Cache
	overclocks easily to 3200+ level; overclocking not guaranteed
     AXDA2500KV4D AQYFA 0341VPMW S/N 1024781260154
2. Asus A7N8X 2.0 DELUXE UAY2 MOTHERBOARD
     S/N: 39ZM114873, BIOS 2.00-D01 ACPI BIOS Rev 1008
     08-04-2004-nVidia-nForce-A7N8X2.0
3. Speeze CPU HEATSINK FAN 5F263B1M3 P3/AMD
    Socket A/370 heatsink, Speeze 5F263B1M3,
    an aluminum extrusion unit with a fairly quiet fan

MOTHERBOARD INFO:

**MOTHERBOARD INCLUDES ALL PARTS FROM THE RETAIL PACKAGE
	EXCEPT TWO SATA CABLES**


Processor
- AMD Athlon\Athlon XP with the bus speeds 100/133/166 MHz;
- AMD Duron with the bus speed 100MHz;
- Socket 462
The nVidia nForce II Chipset
- North Bridge nForce2 SPP;
- South Bridge - nForce2 MCP-T;
- Interbridge Bus - HyperTransport (800 MB/s)
System memory
- Three 184-pin slots for DDR SDRAM DIMM
- Maximum memory capacity 3 GB
- Supported memory types PC1600/2100/2700/3200
- 128-bit dual-channel memory access possible
- Onboard power indicator
Graphics
- AGP slot supporting the 4x/8x modes
- AGP Warning LED indicator
Expansivity options
- Five 32-bit PCI Bus Master slots;
- Six USB 2.0 ports (4 integrated + 2 additional);
- Two IEEE1394 (Firewire) ports
- Integrated audio nForce2 APU;
- LAN controller nForce2;
- LAN controller 3COM.
Overclocking Options
- FSB adjustable between 100MHz to 250 MHz in 1(-5) MHz increments; multiplier adjustable;
- Processor/memory, AGP voltage adjustable.
Disk subsystem
- 2 channel UltraDMA133/100/66/33 Bus Master IDE (with support for up to 4 ATAPI-devices)
- Support for SerialATA (2 channels)
- Support for LS-120 / ZIP / ATAPI CD-ROM
BIOS
- 4MBit Flash ROM
- Award BIOS Phoenix with support for Enhanced ACPI, DMI, Green, PnP Features and Trend Chip Away Virus
Miscellaneous
- One FDD port, two serial and one parallel ports, ports for PS/2 mouse and keyboard
- STR (Suspend to RAM)
- SPDIF Out
- Asus POST Reporter
- Asus Q-Fan
Power management
- Wake-up on modem, mouse, keyboard, LAN, timer and USB
- Standard 20-pin ATX (ATX-PW) power connector
Monitoring
- Processor temperatures, voltages and the rotational speeds of the three fans are monitored;
- Asus PC Probe utility
Dimensions
- ATX form factor, 245mm x 305mm (9.63" x 12")
1x Motherboard
1x software & drivers CD
1x ATA-133 cable, 1x ATA-33 cable, 1x FDD cable
2x SerialATA cables -- NOT INCLUDED
User's Guide + Quick Setup Manual in English
1x header with 2 additional USB 2.0 ports and a GAME-port;
1x header with 2 additional IEEE1394 ports (plus a set of cables);
A sticker with the jumpers layout diagram + an Asustek logo sticker;
1x header with an additional COM2
1x Rear panel cap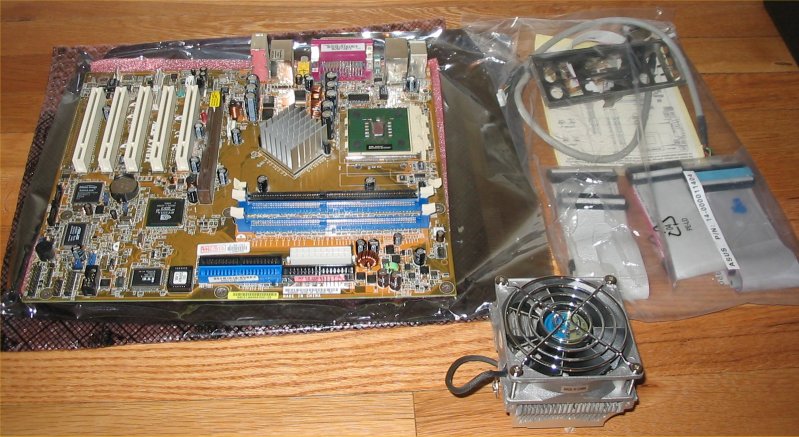 NOT SHOWN: manual and drivers CD
---
---
---
Vantec Ion VAN-400B 400 watts ATX Power Supply


For sale by original owner.  Originally purchased Sep. 2003.
3-year manufacturer warranty in effect until Sep. 2006.
Regularly vacuumed to remove dust. Working condition.

INCLUDES:
  * power supply
  * two SATA power adapters
  * power cable
  * plastic ties
  * user manual

DESCRIPTION

Vantec presents Ion Power Supply with dual
double-ball bearing fans inside and threespeed
temperature control switch to
balance the cooling while it generates the
power. Standard ATX-12V 20 pin connector
fits most of branded P4 motherboards.
Over usage protection functions ensure and
stabilize your system. Vantec Ion power
supply is reliable as well as easy to install
and compatible with most PC motherboards
and systems.

FEATURES
  * Serial ATA Ready
  * 2 Temperature Controlled Fans
  * 3 Speed Thermal Fan Control Switch
  * Additional AC Outlet For Peripheral
  * ATX-12V
  * Electric-Shock-Free Protection
  * Over Voltage Protection
  * Over Current Protection
  * Short Circuit Protection
  * Low Noise Level

LINKS
Vantec Website


Specifications
:
AC Input

100~120 Vac / 200~240Vac 10/6A 60/50Hz

Peak Load

(60 sec.)

DC Output

+3.3V

+5V

+12V

-12V

-5V

+5VSB

VAN-400B

Max Output
Current

26A

40A

16A

1.0A

0.8A

2.5A

500W

400W

Max Combined
Wattage

220W

192W

12W

4W

12.5W

380W

28W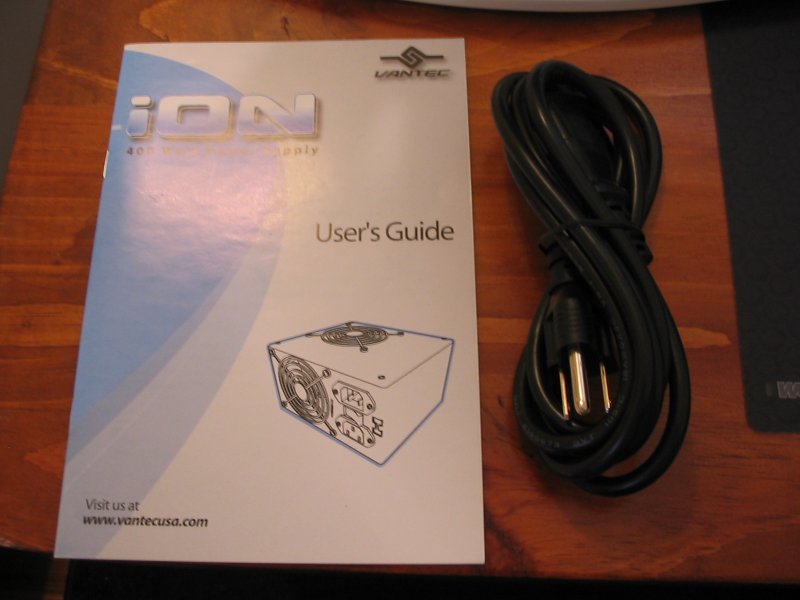 vantec ion 400b power cable and manual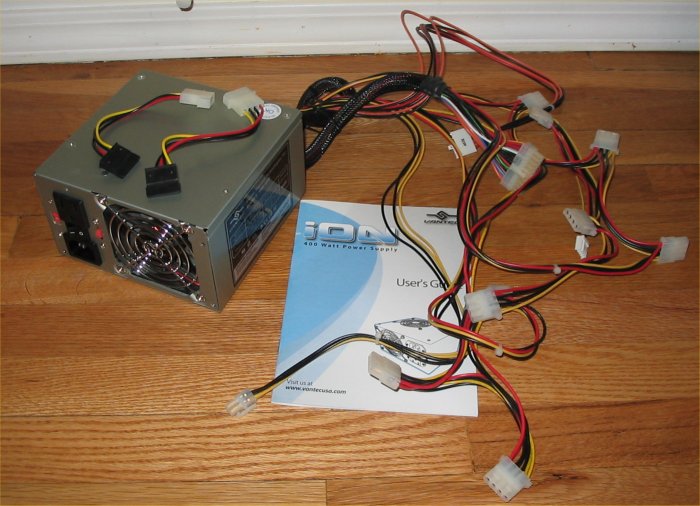 Vantec VAN400B power supply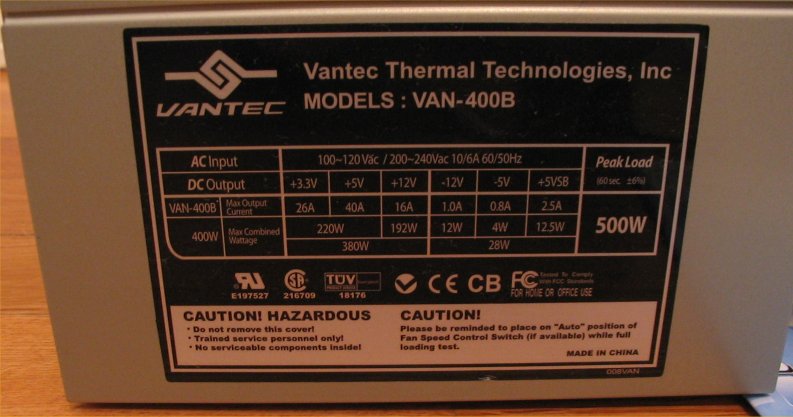 Vantec VAN400B side
---
---
---
Startech Removeable 3.5" drive drawer
with two caddy's and soft travel case

All components are in working condition.

INCLUDES
* Black Rugged ATA133 Drive Drawer with Shock Absorbers
* Extra Drive Caddy for Black DRW113ATABK Drawer
* Black Carrying Case
* Mounting screws, Locking Key, CD, and Manuals

See Product Info At: 
startech.com
for DRW113ATABK and DRW113CADBK

Description
StarTech.com's DRW113ATABK removable black hard drive
drawer offers a cost-effective way to quickly insert or remove ATA
hard drives from any PC with an available 5.25-inch drive bay
without opening the computer. It is an ideal solution for high-
speed back-ups of critical files, moving large files from one
computer to another, and for running multiple operating systems on
the same PC.

While providing security and minimizing downtime, the DRW113ATABK
features reliable shock absorbers and a sturdy aluminum
construction that helps limit physical damages to the enclosed hard
drive during transport. The absorbers take the bumps and jumps
associated with moving the DRW113ATABK from place to place and
channel them away from the drive. This drive drawer consists of an
aluminum caddy with a plastic cover and a plastic bay, making it
suitable for everyday use.

Included with the DRW113ATABK is our exclusive Swap Manager
	software for Windows that allows you to hot-swap the removable
	drive without the need to power down the computer. This lets
	you add or remove drives with minimal disruption to your
	workflow. Don't forget to buy your accessories!

Applications and Solutions Medium duty model made out of Aluminum
	and plastic is ideal for use in homes, offices, schools and
	government institutions Can be conveniently used as a mobile
	back up system Fast and easy way to make backup copies of your
	files, applications, company's critical data and for
	transporting databases and other large files from one location
	to another For use in servers and storage subsystems Perfect
	for mission critical control computers where downtime must be
	minimized

The StarTech.com Advantage Drive drawer designed with a handle
	release mechanism for ease of use Exclusive shock absorber
	system helps prevent impact damage to the hard drive when the
	caddy is removed from the bay or while it's being transported
	to a different location Guaranteed compatibility with PC and
	Mac systems Increases business productivity which saves
	valuable time and money Swap the drive while the system is
	running using the included Swap Manager software for Windows

Features 2 Ball-bearing fans maintains optimum cooling and
	increased air flow Caddy is built with a key lock mechanism to
	prevent the hard drive form being accidentally removed while in
	operation LED indicators continuously show operating status of
	the drive drawer Mobile solution for high capacity databases
	and large applications Secure and affordable solution to store
	and transfer data Supports hard drive ATA66/ATA100 & ATA133
	with data transfer rate up to 133 MBytes/Sec Swap Manager
	Software allows the hard drive to be removed or replaced while
	the system is running The caddy is constructed with aluminum
	for maximum durability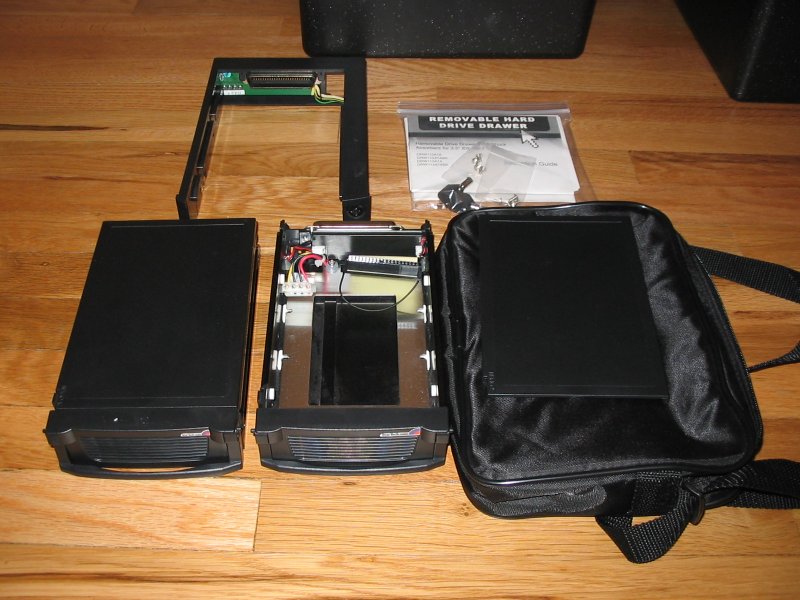 ---
---
---
Sony CD R/RW DVD-ROM CRX300E


This is a like new Sony CRX300E 48x24x48x/16x CDRW/DVD Combo Drive.
Drive comes with CD audio cable and IDE cable.  The drive is
in excellent condition and has had minimal use.
See pictures for everything that is included.
I am selling because I upgraded.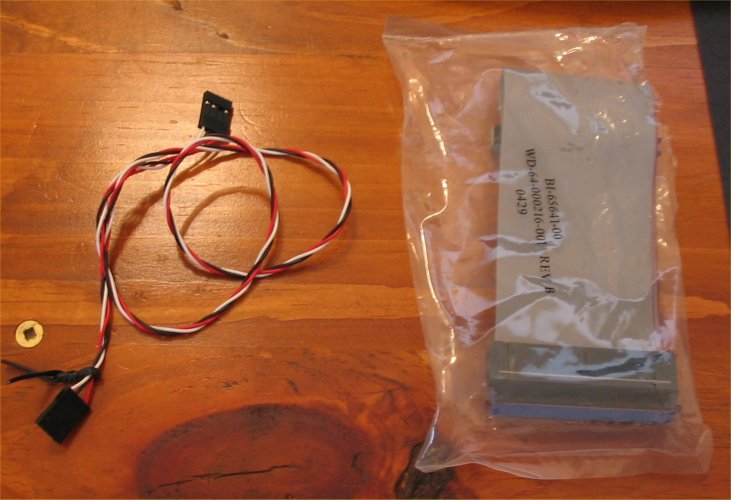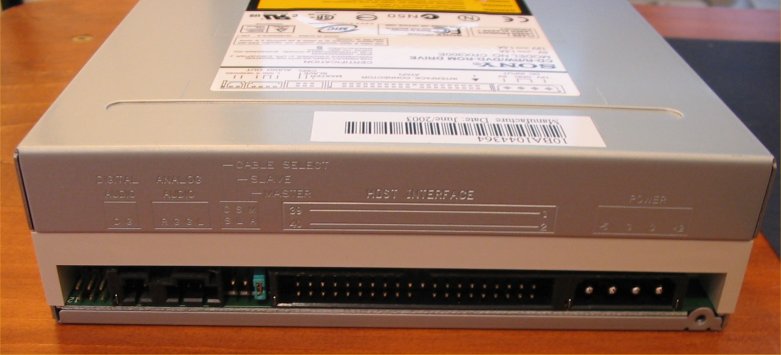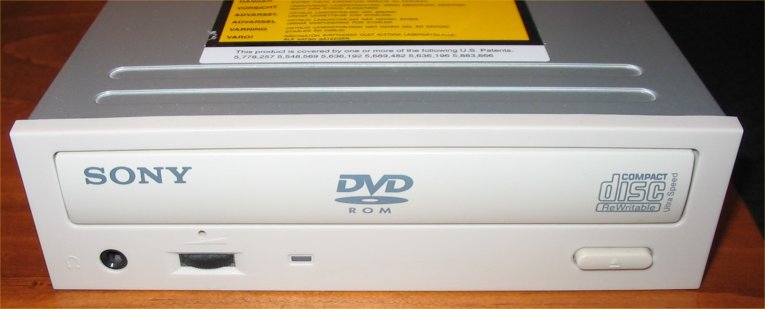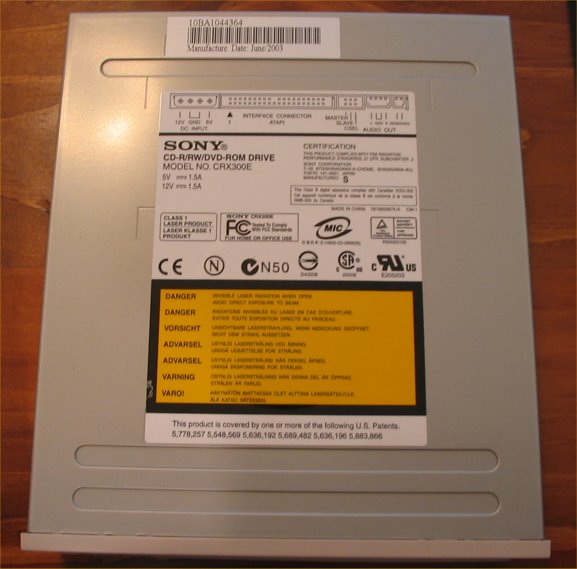 ---
Sony brings the best of both worlds together with the new Sony CRX300E CD-RW/DVD-ROM drive. The new Sony CRX300E combines high performance 48X max. CD-R and 24X max. CD-RW burning and 16X max. DVD-ROM reading capabilities into a standard half-height PC compatible drive. CD-R/RW burning is fast and reliable thanks to the built in buffer underrun protection. It is an ideal drive for those who have limited drive bays in their PC but want to add high performance CD burning and DVD-ROM reading to their systems. The Sony CRX300E works with Windows® 98SE/2000, Windows® Millennium Edition, and the Windows® XP Home and Professional operating systems.
---
Features :
---
Blazing fast 48x max. CD-R burning, creates a full CD-R in about 3 minutes
16x DVD-ROM speed allows for playback of DVD movies
Power Burn conformed buffer underrun protection feature for smooth, reliable burns
Internal EIDE/ATAPI drive for installation in Microsoft Windows operating system environment
New, Bulk Package.
Manufacturer warranty.
---
Specifications:
---
Read/Write Speed:
CD-R Write: 8X, 12X, 16X CLV, 24X ~ 40X P-CAV, 48X CAV (turbo mode) max.
CD-RW Write: 4X, 8X, 10X, 12X CLV, 16X ~ 24X CAV max.
CD Read: 48X max.
DVD Read Speed: 16X max.
Buffer Memory:
2 MB
Random Access Time:
100 ms
Interface:
ATAPI/EIDE
Sustained Transfer Rate (CD-R/RW Discs):
1,200 kB/s (8X CD-R/RW read/write)
1,800 kB/s (12X CD-R/RW read/write)
7,800 kB/s (52X CD-R/RW read/write)
Media and Modes Supported:
CD-R, CD-RW, CD-ROM (Mode 1 & Mode 2), CD-ROM XA (form 1 & form 2), CD Audio, Video CD, CD Extra, Multi-Session, Packet Writing, DVD-ROM, VD-Video
Burst Transfer Rate:
PIO Mode 4: 16.7 MB/s, Ultra DMA Mode 2: 33.3 MB/s
System Requirements:
Intel Pentium II processor 400 Mhz or faster (or equivalent) CPU, 64 MB RAM< 1 GB available hard disk space recommended. Microsoft Windows 98SE, Windows Millennium Edition, Windows 200 Professional, or Windows XP Home/Professional operating systems.
---
---
---
SimpleTech 256MB CompactFlash Card


This is a working, SimpleTech 256MB CompactFlash Card.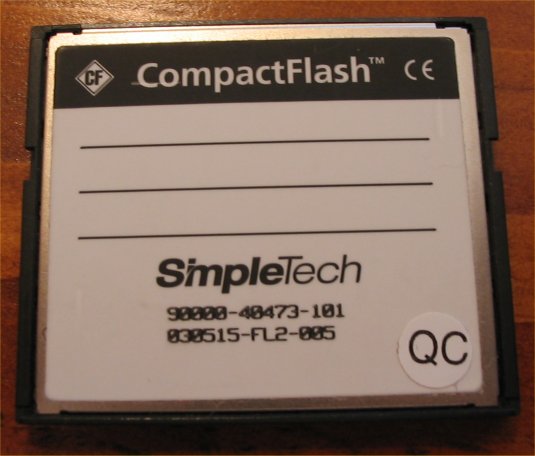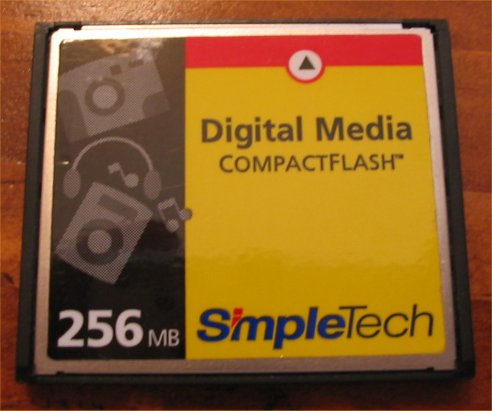 ---
Created 2006-05-07, Last Modified 2012-04-11, © Shailesh N. Humbad
Disclaimer: This content is provided as-is. The information may be incorrect.