Used Sprint PC5740 (PC-5740) Broadband EVDO Card
Used Sprint connection card for sale by original owner, with free shipping anywhere in the US. Original retail price is $229.99.
ITEM HAS BEEN SOLD
This is a working connection card in excellent condition. It was lightly used for one year. Comes with all original contents, including the case, software installation CD, manual, and the connection card.
This card is no longer activated. In order to use it, you must subscribe (or be subscribed) to a data plan from Sprint. Check Sprint for coverage and plan pricing. In EVDO coverage areas, you can get broadband-like speeds of 400-700 Kbps, with peak rates up to 2 Mbps.
Picture of Connection Card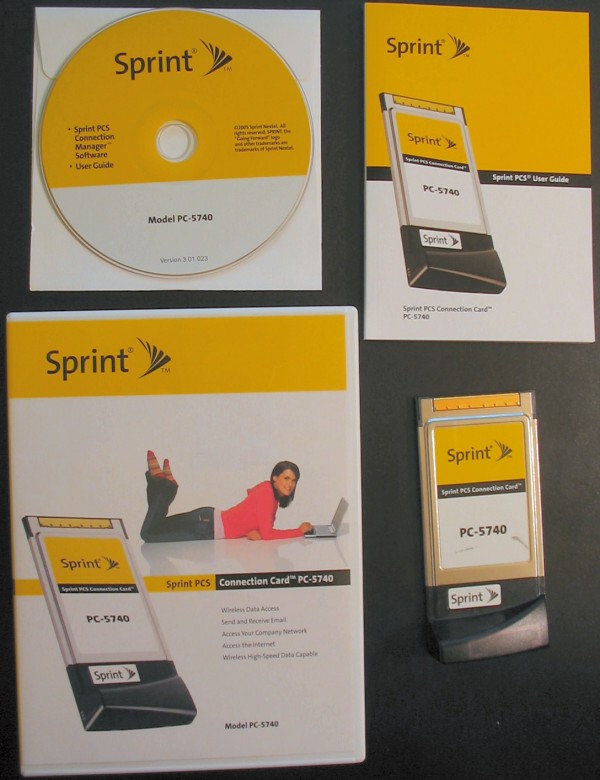 Specifications
| | |
| --- | --- |
| Dimensions: | 4.8" x 2.1" x .4" |
| Weight: | 1.5 ounces |
Details
Easy, mobile access your company's network or the Web with the Sprint Mobile Broadband Connection Card PC-5740. Access your company network and databases, send and receive email with attachments, and surf the Web with ease.

The PC-5740 32-bit cardbus electrical interface is designed to optimize laptop performance.

Packaged with Sprint PCS Connection Manager(SM) Software for connectivity to the Sprint PCS Power VisionSM Network. Get new upgrades over-the-air or visit the Sprint Software Downloads site.

Mobile Broadband Capable:

Where coverage is available, experience broadband-like download speeds using EV-DO technology. The average download speeds range from 400 to 700 Kbps with peak rates up to 2 Mbps.

Compatibility:

Windows® 2000/XP with a Type II PC Card slot

Features:

Reliable High Speed Wireless Data Access Where Available: Receive broadband-like average data transmission speeds when downloading data to your PC.
Advanced Power Management: Operating voltage of 3.3V for longer laptop computer battery life.
Software: Includes Sprint PCS Connection ManagerSM software for connectivity to the Nationwide Sprint PCS Network. This easy-to-install, easy-to-use software provides a common user interface across multiple mobile computing devices and self-diagnostic tools to simplify set up, support and troubleshooting.
Antenna: Rugged, durable and embedded antenna with an advanced multi-band/diversity design enhances performance by maximizing data throughput. External antenna connector to maximize throughput in fringe areas with optional accessories (sold separately).
Compression: Take advantage of network and client-based bandwidth optimization for increased data throughput and an enhanced wireless experience.
Security: Employs CDMA wireless technology authentication and identification system for top-notch security. The Mobile Identification Number (MIN) and Electronic Serial Number (ESN), together with CDMA spread spectrum technology, make it virtually impossible for unauthorized users to capture and decipher messages and other sensitive information.

Dimensions:

4.8" x 2.1" x .4"
1.5 ounces

Tech Specs:

Leverages the CDMA 2000 1x network with 1900 MHz frequency
Designed to operate on the Sprint Power VisionSM network where available
Single-band for use on the Sprint Nationwide PCS Network
---
Created 2006-12-09, Last Modified 2011-07-24, © Shailesh N. Humbad
Disclaimer: This content is provided as-is. The information may be incorrect.