Buy a Jump to Conclusions Door Mat
Exclusive Opportunity!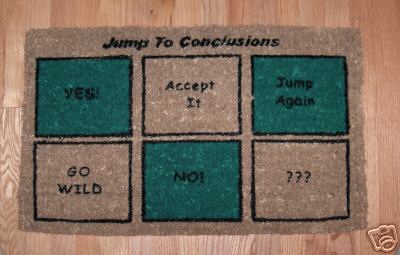 You have heard of it...
You have made jokes about it...
Your friends all know about it...
And now it's finally here...,
Your very own Jump to Conclusions Mat!
Have you always wanted to be the life of the party?
Now you can welcome your guests to your home with the one and only Jump To Conclusions Mat. Whether they are confused about making a decision, or just simply confused, give them a hand by showing them the way. Simply place the mat on the floor and jump away!
Want to spice up your college dorm?
If you're tired of having the same old posters and black lights, change it up with a little originality. Make your friends jealous with your quick decision making skills and 'Go Wild'!
Stop wasting time thinking things through!
This handy mat will not only scrub your feet when you come home, it will also save you time by guiding your decisions. This is the one and only mat that will not only welcome your guests, but will keep them laughing for hours on end! Buy one now!
Confused why you didn't get that date? 'Accept it!'
Deciding if you should go out tonight? 'GO WILD!'
Wondering if you're a man or a woman? '????'
Stop thinking and start to 'Jump to Conclusions'!
Quality durable construction; the Mat measures 2' x 3' and is made of resilient Coco Fiber ("Coir").
Jump to Conclusions Mats Are No Longer Available. Sorry!
Brought to you by Colleck
---
Created 2007-05-15, Last Modified 2018-01-25, © Shailesh N. Humbad
Disclaimer: This content is provided as-is. The information may be incorrect.